Cosmetology for the Stars? Your Future as a Celebrity Stylist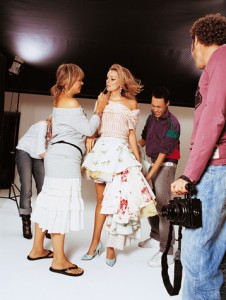 Thinking of a future in cosmetology? Most people only think of working from home, going to cosmetology school, then proceeding to a salon. And it's true that many cosmetologists go this route. But did you know that cosmetology can lead you into the exciting world of fashion, the heat of a political race, or even the set of of a movie? If you keep an open mind and seek opportunities, there are lots of ways to use your craft! Let's take a look at a few "big-time" cosmetologists who have found another route to success:
Oribe Canales is so successful that he needs only go by one name. The stylist does hair and make up for photo shoots for models and magazines around the world, including Vogue. Supermodels and celebrities are his clients. He has his own product line. Oribe is at the pinnacle of his profession.
James Cornwell is the make-up artist for Nancy Pelosi, the House Minority Leader. Helping a major national politician get ready for appearances on national television, at press conferences, and on the campaign trail is no easy task, but Cornwell is up to it. Through this exciting and rewarding profession, a future cosmetologist like yourself just might help determine our future president!
Andre Walker is the personal hair and make-up artist for Oprah Winfrey, trusted for many years with the task of getting Oprah looking good for her many public appearances. Is there any job in this profession better than having one of the most famous women on the planet as your client?
Mary Ann Valdes reached the pinnacle of her profession when she received an Emmy nomination for her styling work in the comedy Ugly Betty. She started in television working on the set of the iconic 1980′s hit Miami Vice.
As you can see, there is plenty of room for excitement, variety, and advancement in your career as a cosmetologist. While you may start in a salon, continuing to work there is only one of a number of options. Through hard work and skill, you might find yourself doing make-up for magazine covers, or wearing that new dress on Oscar night for your "make-up effects" nomination!
It's important to remember that few celebrity stylists become successful overnight. Most, if not all, of them have a strong work ethic and a willingness to learn and try new things. These are the keys to making it big!
Last updated by admin at .
Tags: celebrity glamour, celebrity makeup, Celebrity Trends, cosmetology careers