How to Get Gorgeous Daytime Cat Eyes Like Emma Stone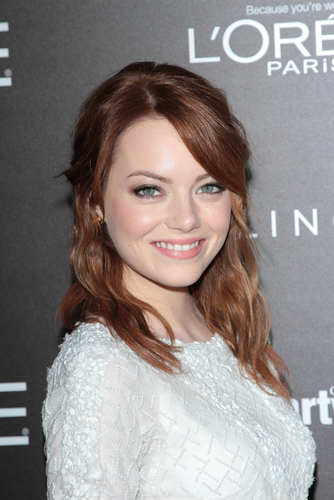 Ever since Emma Stone showed the world that the cat eye look can be worn in the daytime, women everywhere are trying to replicate this look. When attempting to create the daytime cat eye look, it is essential to strike a balance between those dramatic smokey eyes and eyes that have very light eyeshadow. By combining the two, you can end up with a winning look just like the one that Emma Stone wore to the recent Los Angeles premiere for The Amazing Spider-Man.
The first step to creating the daytime cat eye look is to pick out a light eyeshadow. You should find a cream, white or pearl eyeshadow to use for the base color. A cream eyeshadow will blend nicely on your eyelids and will stay put for hours. You can try using the Chanel Illusion D'ombre in Fantasme eye shadow for the perfect look. You will also want to make sure that you blend a bit of the cream eye shadow on your brow line. The shimmering effect that this add will add a touch of beauty to your cat eye look.
The next step will be to apply liquid eyeliner to your lids. Try to use a fine line and outline the area just above your eyelashes. You can use a liquid eyeliner like the Revlon ColorStay Creme Gel Eye Liner in Black. This liquid eyeliner will stay on for hours. The size of the marker tool is also very helpful in drawing the perfect line. When you draw the line, you should extend it out beyond the end of your lash line. You will want to create a small wing at the end of your eyelid. You should make sure that the wing is no longer than the length of an eyelash. Otherwise, your look will be too dramatic for the day time.
Emma got her start in acting at eleven years old at the Valley Youth Theatre in Phoenix, Arizona, where she starred in over sixteen stage productions as well as performing the the theatre's comedy improv troupe.
After you apply the liquid eyeliner, then you should use a mascara to add some volume to your lashes. This will add a touch of glamor to your day time look. You may also want to use an eyebrow pencil to add some definition to your brows. This can help you define your brows and achieve a more put together cat eye look.
Add some fun to your daily look by trying out the cat eye look. Having cat eyes can add some spice on those days when you want a little extra boost.
s_bukley / Shutterstock.com
Last updated by admin at .
Tags: cat eyes, emma stone, eyelash volume