Is Cosmetology a Good Choice Without a Degree?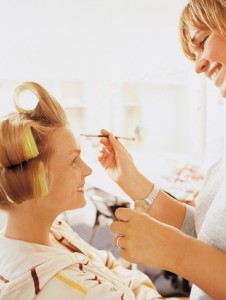 Have you ever thought about going to cosmetology school? Many people who do not want to go to a traditional university for four years, six years, or even eight years end up considering cosmetology as an alternate route.
It's a hands-on profession; cosmetology school consists of a little training and a large amount of practice. Many schools offer discounted or free haircuts to those who are willing to let a student practice their craft. Typically, a cosmetologist can become licensed in around a year, although the amount of time it takes to finish the required number of practice hours to attain certification varies depending on the student.
If you're undecided about cosmetology as a career versus other professions that do not require a college degree, it's helpful to consider your options. It used to be that certain medical assistants, nurses, and dental hygienists could practice their craft without a four-year degree. The market for these jobs, however, is increasingly competitive, with more and more people opting for at least a bachelor's degree in such fields.
Trade professions continue to offer viable options. Plumbers, electricians, carpenters, mechanics, and landscape professionals often need special training or certification, but are not necessarily required to have a typical college degree. Certain office jobs, like secretarial or paralegel work, might require only an associate's, or two year, degree.
Those working in computer science or the arts can certainly benefit from a degree in their field, but talent, skill, and know-how often trump everything. If you know what you're doing, there are jobs to be had. A number of specialized computer courses that do not require a degree are offered (where else?) online, allowing aspiring computer specialists to hone their skills and acquire new knowledge without having to attend a college.
After reviewing all of the options, it's clear that there is still a way forward for those looking for an advanced education and viable profession outside of traditional college. To be sure, a college degree is useful, and many people choose to go that route. But if you're seeking different direction, there are still plenty of options out there.
If you've looked at your options and decided on a career in cosmetology, it can be a quite satisfying and productive job. There is often opportunity for advancement, and the level of pay can often depend on your skill and hard work. What's not to like?
Last updated by admin at .
Tags: Beauty Jobs & Careers, cosmetology careers, cosmetology classes, hair design school