Cleanliness is Next to Evilness: Villainess Soaps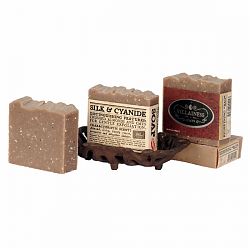 Not much about soap is exciting. Some are interesting, but you can't really say it's provocative. Unless you're talking about the naughty & nice collections from Villainess Soaps.
Villainess is a bit naughty because they have scents named after deadly deeds like Pyromania, which gives off a sweet, smoky odor and uses poppy seeds as a mild abrasive. I bought my younger sister a bar of Silk & Cyanide for Christmas, which gives off the scents and flavors one experiences while slowly being poisoned. She cautiously thanked me for my trouble.
Villainess is a bit nice because all their products are cruelty-free, and they operate through a full-disclosure policy about all materials used in manufacture. It's kind of like how the arch-enemy details all her nefarious plans to the hero before she engages the unnecessarily slow-moving crane toward the shark tank.
Villainess Soaps and cosmetic products are hand-made in Waverly, TN by people who are truly passionate (and a bit evil) about their ideals. The soaps are nicely priced and arrive in un-sculpted hunks of glorious texture, color and odor. Ask your local beauty biz if they'll stock some, or just visit their website at www.villainess.net to see what devilishly clever new things they've devised.
Photo: Villainess Soaps
Last updated by admin at .
Tags: beauty, Beauty Products, Eco-Friendly, go green, going green, natural, organic, skin care