Beauty and the Bride: Tips for the Start of Wedding Season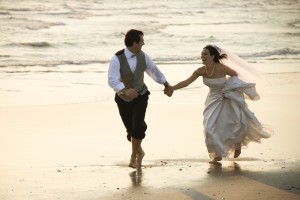 As summer rolls in, we also usher in wedding season in all its glory. Whether you're a blushing bride, a helpful bridesmaid or a hair or make-up stylist gearing up for some serious wedding makeovers, we've got a few tips to help you all out.
Don't go on overload with your schedule- Don't save all your beauty to-dos until the few days before the wedding. Its added stress and some procedures such as facials can actually leave you with redness on your wedding day. Space out appointments accordingly!
Be yourself- Your fiancé wants to see you on your wedding day—not some made-up woman he doesn't recognize. Make sure your make-up is heavy enough to make an impact in photos but not overdone.
Be careful in the pursuit of a tan- Almost every bride wants a glow, but don't try to get it by sunbathing with the bridesmaids the day before—you'll only end up with a bad sunburn. Be super careful with sunless tanner as well. Use a mitt to avoid embarrassing streaks and don't wear it without showering. You'll rub off on your beautiful white gown!
Do a trial run- No one wants to walk down the aisle with a hairstyle they didn't expect or make-up they don't absolutely love. Brides, make sure you schedule a trial run with your stylist at least two weeks before your wedding date. Stylists, make sure you ask enough questions about what the brides want.
Most of all, don't sweat the hair and make-up details too much. Remember what the day is really all about!
Last updated by admin at .
Tags: bridal makeup