2011 Holiday Makeup Tips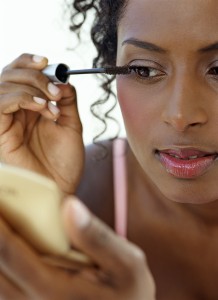 Well, it is that time of the year again. All of the sights and sounds of the holidays are upon us. The shopping, parties, and the hustle and bustle back and forth can put a demand on our time and spirits, and that can seriously wear a girl out. All of that activity can really wear a girl out. How can we be expected to look our best in the midst of all the excitement? Well, we've got some easy holiday makeup tips you can use for every type of party.
First, we will begin with the skin since we all know by now that clean skin creates a wonderful canvass on which to paint and show off your best features. To keep skin fresh and flawless all throughout the day and right on into those late-night holiday parties, try spraying a light mist of your favorite toner all over your face and pat dry. Then, apply a dusting of loose powder for a picture-perfect finish. If you need a face pick-me-up, take your concealer and put a little in the corners of your eyes and along the sides of your nose. Pat gently and then use your bronzer lightly over your cheeks. Instantly, you are ready to go.
The 2011 holiday makeup looks range from elegant to edgy, and it doesn't necessarily mean dramatic eyes and red lips. There's a neutral trend this holiday season that plays great off the right baby doll dress or one-shoulder draped outfit. Use a light shade on the eyes that just a degree or two darker than your natural skin tone and use a light touch with a brown mascara instead of a heavy black. Top it off with a rosy blush and a pink gloss for a fabulous, fresh look.
If you want to do dramatic, don't be hog-tied by the usual grays and blacks in your holiday makeup either. Break out of the box with color in your eye shadow in hues like blue, purple and green. Bonus points for picking up shades that had a sparkly metallic finish. Don't forget eye liner for a little extra drama. You can never go wrong with a little black to contour your eyes and make them really pop.
If you go with smokey, dramatic eyes, though, remember to balance it with a lighter lip. The idea is sass and sophistication, not over-the-top stage makeup.
It may seem like old hat, but you honestly can never go wrong with a red lip, especially during the holiday season when red is such a major focal color. Combine one of the new shades of red out there or take it even further and pick up a dark, dark plum, and pair it with the natural eye makeup for a touch of old school glamour.
The possibilities are endless and as unique as you and your look, but the real goal is to just have fun and enjoy all the festiveness of the holidays.
Last updated by admin at .
Tags: 2011 holiday makeup, 2011 holiday makeup tips, holiday fashion, holiday makeup tips, holiday parties