WIN SKINCARE PRODUCTS FROM ARTISAN NATURALS
The Artisan Skincare contest is officially closed.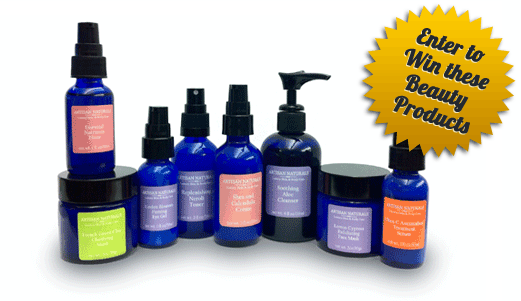 Summer is all about maintaining healthy skin, and Artisan Naturals wants to help you get there. Their fab facial gift pack full of eight rejuvenating skincare products will make your sun-kissed skin feel al natural.
What you'll be winning: Skincare products from Artisan Naturals valued at $206. The skincare product pack includes:
- Lemon Cypress Exfoliating Mask
- French Green Clay Clarifying Mask
- Linden Blossom Firming Eye Gel
- Essential Nutrients Facial Elixir
- Soothing Aloe Face Cleanser
- Shea & Calendula Face Crème
- Ultra C Anti-Oxidant Treatment Serum
- Replenishing Toner
1. Log onto Twitter

2. Follow @BSDiva

3. Retweet the following message up 1x per day:

WIN over $200 worth of skincare products from Artisan Naturals. FOLLOW @BSDiva and RT this to enter! Pick Me! http://bit.ly/j5Cg2v



1. Follow the link http://on.fb.me/k0xjj2 to visit our Facebook page, Beautyschool.com.

2. "Like" our page.

3. Leave a comment on our "Artisan Naturals Skincare Contest" album. (You have to leave a comment in order for us to record this as a vote).



A lucky winner will be chosen at random and written about on BeautySchool.com and BeautySchoolsDirectory.com. The winner will be announced on YouTube via our new video channel (username: beautyschooladvice), BeautySchool.com's Facebook and BSDiva 's Twitter profile shortly after the contest closes.
Content Ends: The contest closes Wednesday, June 15 at 11:59 p.m. Increase your number of entries into the contest by retweeting the message above 1x per day and leaving 1 Facebook comment on the Artisan Naturals Contest album per day.
Eligibility: Anyone who has a love of beauty, works in the skincare industry, is attending cosmetology or esthetics schools, or is a beauty school grad can enter! Read our official rules.
About Artisan Naturals: Artisan Naturals skincare products are formulated with the finest quality of ingredients. Their wild-crafted ingredients, many of which are organic, contain all natural preservatives and are all cruelty free. Artisan Naturals' products may homage to the hard working people dedicated to preserving true Artisan tradition View the entire Artisan Naturals skincare collection.
Show your love of beauty and personalize your site with our beauty badges below! Can't decide on just one? Take two!